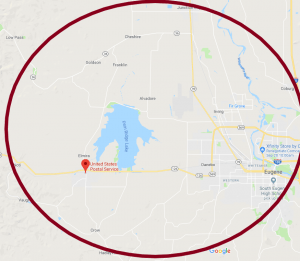 The station started broadcasting July 1st, 2015 and has been on the air continuously for nearly four years. KOCF is a low power community radio station broadcasting to the Fern Ridge Communities of Elmira, Veneta, Noti, Crow, Alvadore, and surrounding communities of Coburg, Junction City, and parts of West Eugene on 92.7 FM. We also stream all of our programming 24x7x365 at kocf.org for the rest of the planet.
The coverage area is seen in the map. The stream can be heard at kocf.org, so you can listen to KOCF from anywhere in the world with access to the internet. We hope you enjoy our programming service.
The station is a project of the Oregon Country Fair. The Fair has a long history of community service and provides substantial support through multiple projects in the Fern Ridge Community. These generous programs can be found at the Oregon Country Fair website in the philanthropic endeavors.
Along with music, news, weather, local events and community emergency announcements KOCF is your source for great music provided by community members for you.
So tune in!
We appreciate your input, please send us your requests or comments or information about events to our email at [email protected] or go to our website www.kocf.org and select contact us. Or you can call us at 541-935-8847.
Or mail your donation to KOCF Radio, P.O. Box 923, Veneta, OR  97487
Please make checks out to Oregon Country Fair – KOCF Radio
ALL donations are fully tax deductible as the funds will be recorded as donations to the Oregon Country Fair (a federally recognized non-profit) – but restricted to the operation of KOCF Radio.