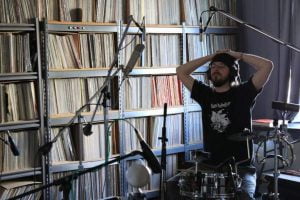 Hi all!
Hope you're well and happy fall to ya. In our house, we dive right into soup and scary movie season, started things off this year with a sauerkraut and sausage soup from northern Germany, and a couple of classic Vincent Price films – The Fly, and Pit and the Pendulum. Hope you're all enjoying the season change as well!
KOCF is kicking off with some Fall news of our own – first and foremost, our new Program Director, Adam Jacques, has been hard at work on developing some new programming for the station! Here's Adam to introduce it in his own words:
"In an attempt to bring diversity of music and locally produced shows into the KOCF universe we are excited to announce our new line ups coming to the station starting on October 2nd. On Fridays following Music Gumbo we have Soul Shack, a two hour show of spirit quenching soul, funk and R&B classics from decades past as well as some modern day favorites. Sundays we have lined up 11 hours of locally produced content starting at 1pm. We start the day with 2 hours of Analog Air with DJ D. 60s and 70s classic rock with the hippie vibe. Then at 3pm we move on to the hour long show Movie Music with Maiya. Soundtracks and songs that made the movies memorable. Highlighting one movie per week that are all certified classics. Rolling in at 4pm and going two hours is DJ Zizzou and The Life Semi-Aquatic. An eclectic mix of genres and time periods weaving together music from then and now. Great for chilling out and getting down. At 6pm for two hours we find ourselves in Elsewhere, Oregon. Curated tracks by a veteran DJ showcasing often forgotten tracks that will help you find your own personal Elsewhere. At 8pm for two hours we start to slow it down and get introspective with Light From a Dead Star. Debra, our Faerie Gothmother, playing shoegaze tracks that will get your feet shuffling and your brain looking deep inside itself. From 10p until Midnight we have the second year of The High End rocking out. Grunge, punk, indie, new wave hits and deep cuts to end your weekend the right way.
The undertaking of this project is large in scope and we couldn't be happier with the outcome. In the future we would like to begin curating days and loading the schedule with local producers as much as possible. Thank you to everyone at the station and all of our new producers for making KOCF radio for everyone by everyone. Stay tuned for more exciting news and keep on rocking."
Needless to say, we're all very excited about all of the new DJs and their programming, and can't wait for you to meet them. Tune in tomorrow (Sunday) 10/2! I happen to know that Adam has some more exciting things in store for us in the not-too-distant future, so more to come soon.
Of course, it wouldn't be Halloween season without KOCF's Halloween Hullaballoo! Back after far too long of a break, join us at Whirled Pies on Halloween (10/31) for music, friends, and fun. Costumes encouraged of course! Keep an eye out for more details as they're finalized! And this year, we're bringing you something new – KOCF is excited to announce for the first time ever, a fantastic collaboration with our friends at Art House: come join us for our joint screening of Phantom of the Paradise! We'll have several showing on and around Halloween weekend, exact dates and times to be announced very soon.
As always, thanks so much for your support of KOCF, and we look forward to seeing you all very very soon!  Cheers,
Sean Cummins
KOCF Station Manager
Contact Us